What do the words "forensic nursing" bring to mind?
The first thing you think of is probably crime shows like Law & Order or Criminal Minds. This however is a misrepresentation… in Australia, at least.
While it mightn't be as glamorous as the small screen makes it out to be, forensic nursing is an increasingly important field of nursing, and an essential part of Australia's health system.
Forensic nursing has emerged as a rapidly growing specialisation in the nursing field, slowly earning recognition in Australia and abroad as its own, separate specialisation.
And as a rapidly growing specialisation, there are plenty of opportunities for nurses looking for part-time, permanent or temp work to gain a foothold in this new and exciting field!
What does a forensic nurse do?
The field of forensic nursing is a relatively new one in Australia, so that explains why information is somewhat scarce.
In short, though, forensic nursing will often overlap with various other specialties, including:
Mental health nursing

Correctional nursing

Drug & alcohol nursing
Forensic nurses may work in not only hospitals, but also:
Psychiatric institutions

Corrections facilities

For police departments
They also work closely with social workers to evaluate the mental health of a patient.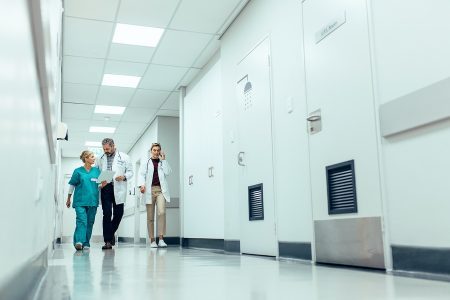 Forensic nurses are in high demand in Australia
Forensic nursing can be one of the most demanding specialisations in the entire nursing field.
But despite its challenges, the rewards of forensic nursing are vast.
While you may not be the one slapping on the handcuffs or slamming the gavel in court, you play an essential task in the course of justice. Forensic evidence is delicate – the specialist knowledge forensic nurses provide allows victims to be treated without contaminating or losing vital evidence.
It's more than just your evidence-related tasks, however. Often, a victim's immediate interactions with authorities can go on to shape the way that they recover from their trauma.
Your role as a forensic nurse means that more often than not, you're one of a patient's first points of contact.
As such, forensic nurses have a long-lasting impact on the recovery and healing process – and isn't that what nursing is all about in the end?
A brief history of forensic nursing
Forensic nursing has existed in one form or another as early as the 18th and 19th centuries, where medical professionals would be involved in court cases in a similar capacity to coroners.
Forensic nursing in its modern form only came about in the 1980s, however, predominantly in the US.
American nurse Victoria Lynch developed the first formal curriculum of forensic nursing at the University of Texas, establishing the forensic nursing model and clinical forensic nursing.
By 1995, the American Nurses Association had granted a special status to forensic nursing.
Forensic nursing was introduced as a scientific discipline in 1989. Both in 1991, the International Association of Forensic Nurses (IAFN) was founded and the American Academy of Forensic Sciences now recognises forensic nursing.
In the US, forensic nurses were once defined by former Vice President Joe Biden as playing "an integral role in bridging the gap between law and medicine. They should be in each and every emergency room".
Forensic nurse qualifications
On top of your current nursing qualification, forensic nurses have to obtain additional certifications.
We know, we know. Even more red tape?
Trust us though, there are very good reasons behind the additional certifications.
FIrst off, forensic nurses work in very sensitive cases. Forensic evidence can clear the names of the innocent, point the finger at the right person… or, if done improperly, can send the wrong person to prison. Handling evidence requires special techniques, processes and training.
To become a certified forensic nurse, one must take the Sexual Assault Nurse Examiner (SANE) offered by the International Association of Forensic Nurses (IAFN). Another option is enrolling a master's programme in Forensic nursing.
Previous experience in emergency nursing or other emergency services, while not essential, can provide useful insights into how to approach the situations forensic nurses find themselves in.
Some of the roles that forensic nurses fill
According to Linda Starr, president of Australian Forensic Nurses Association, forensic nurses fill the role as:
Nurse death investigators

Nurse coroners

Sexual assault nurse examiners

Correctional nurses

Forensic psychiatric nurses and

Legal nurse consultants
Forensic nursing with Swingshift Nurses
If you're thinking of specialising in Forensic nursing in Australia, you've come to the right place!
Australian institutions and agencies provide education and support to a growing number of nurses in the area of forensics.
We have connected many of the forensic nurses that come to us with permanent, part-time and temporary forensic nursing jobs in public and private services.
At SwingShift Nurses, we are big believers in flexibility. Choose from any institution or shift that we offer. Register with us today!