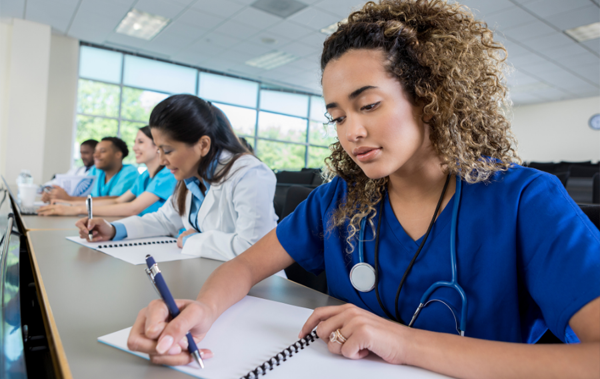 While the global pandemic affected access to upskilling opportunities over the last few years, training courses are readily available both in person and online, allowing nurses and industry hopefuls the means to develop, refresh, and improve their skills. But why is upskilling so important? And how can you take advantage of these opportunities? Read on to find out more.
5 REASONS TO UPSKILL AS A NURSE
Undertaking regular training is fundamental when it comes to learning new skills and improving existing ones. Whether there is an area of nursing you're looking to get into, or there are particular practices you need to brush up on, nursing courses will allow you to strengthen your qualifications and:
1. Keep up with the evolving healthcare industry
Advancements in technology, equipment, and research are constantly transforming the healthcare industry and its best practices. The best way for nurses to stay up to date is by learning, refreshing, and upskilling. If training is not a priority, this can lead to the persistence of outdated methods and practices, which may place the safety of patients and the efficiency of the workforce in jeopardy.
2. Be a real asset amid the current need for nurses
Nursing opportunities are available all across Australia—including within mental health. Due to changes to the industry and the healthcare landscape over the past few years, positions for nurses in many areas have opened up. Through upskilling, existing nurses have been able to diversify their expertise and assist in multiple areas, but the need for nurses is greater than ever. SwingShift offers great incentives to our nurses along with a wide range of flexible work opportunities to suit lifestyle, location, and shift requirements.
3. Contribute to the next generation of nursing
In Australia, the current average age among practicing nurses is 49 years old. As it stands, nursing is an ageing profession, which means many of our existing experienced nurses are closer to retirement than not. It's important that new nurses—particularly young nurses—are being trained and qualified to enter the workforce sooner rather than later.
4. Adapt to patient diversity
Every patient is different. That is why it's so important to learn proper patient care and keep up to date with best practices. At the end of the day, patients depend on nurses to be knowledgeable, helpful, and professional, but because no two patients are the same, knowing how to best approach and care for any given patient can be a challenge. Further education will prepare nurses for this challenge.
5. Maintain required CPD hours
As per AHPRA requirements, all registered nurses (RN), registered midwives (RM), and enrolled nurses (EN) must maintain the specified number of CPD hours to keep their registration. Not only does upskilling allow nurses to grow and branch out within healthcare, but partaking in training courses is crucial for retaining the necessary status of a qualified nurse.
WHERE TO ACCESS TRAINING AND UPSKILLING IN NURSING
If you're looking to join a nursing agency that is people-first, invests in the future, and specialises in mental health, register your interest with SwingShift today. Otherwise, you can head to our jobs board to see the types of positions currently available.